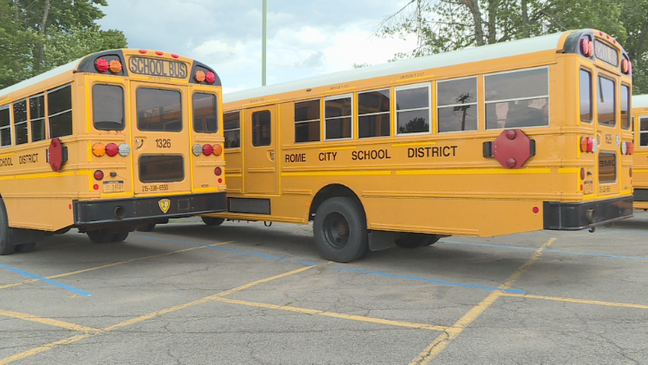 Welcome to the
Rome City School District
TRANSPORTATION DEPARTMENT
CONTACT INFORMATION FOR ROME CITY SCHOOL DISTRICT TRANSPORTATION STAFF

FOR TRANSPORTATION REQUESTS AND/OR CONCERNS

Thomas Waldron, Transportation Supervisor
Phone: 315-338-6550
Email: twaldron@romecsd.org

FOR BUS ROUTE INFORMATION, PICK UP/DROP OFF ISSUES

Brian Warn, Bus Dispatcher
Phone: 315-338-6549
Email: bwarn@romecsd.org
Justin Rutz, Bus Dispatcher
Phone: 315-334-7279
Email: jurutz@romecsd.org
FOR GENERAL INFORMATION

Martha Schaller, Transportation Office
Phone: 315-334-7265
Email: mschaller@romecsd.org

CONTACT NUMBERS FOR FIRST STUDENT STAFF
Rome First Student - Main Number (315) 779-4058
Location Manager - Matthew Kiley (315) 404-0529

Location Safety Manager - Pamela Green (315) 523-7735

Dispatch Desk – Jeremy Ferdinand (315) 523-7236

Dispatch Work Cell – Jeremy Ferdinand (315) 980-9566
About the Transportation Department:

The transportation operation at the Rome City School District coordinates the transportation for more than 5,000 students daily within the district's nearly 100 square miles. This includes more than 120 regular-education student trips, twice a day, to and from the school district's six elementary schools, a middle school and the high school. In addition, the transportation operation also serves the district's special needs students, parochial school students, daily student shuttles and various before-school and after-school programs.
The district applies a "double trip" procedure to many bus routes, such as transporting high school students to Rome Free Academy and then sending the same bus to transport elementary students to their respective schools. This plan makes the most use of our school buses and the staggered starting times for different grade levels and buildings.
School bus drivers are the most highly trained, tested and observed drivers on the road. RCSD bus drivers earn CDL Class B licenses with Air Brake, Passenger and School Bus endorsements. All are fingerprinted and criminal-history-cleared by NY DCJS and the FBI. They have annual medical exams and physical performance testing. They must pass drug and alcohol tests (including random) and in-service written and behind-the-wheel tests as required by NYSSED. The total transportation staff includes both bus drivers and bus monitors employed by the Rome City School District as well as our contracted bus provider First Student.
Our Vision:
The goal of the Rome City School District's Transportation Department is to provide safe and reliable transportation for all students eligible to attend our schools. Our bus drivers, as well as our monitors, are trained and certified in public transportation services, as well as preparedness for any scenario that may occur. We are constantly looking for ways to improve that will ensure every child receives the best worry-free transportation services possible.
FIRST VIEW BUS TRACKING Real-time bus-tracking app
(Please contact Matt Kiley at First Student for App – 315-404-0529)
The FirstView® parent app gives you direct access to the status of your child's bus. Whether deciding the best time to meet at the stop, or seeking detailed delay notifications, FirstView® gives you the information you need to plan your day and stay connected.
Parents can download the FREE mobile app right from their phone OR by visiting web.firstviewapp.com
(Daycare transportation to or from a licensed daycare provider or family care provider within the home school enrollment area).

Cancel Bus Service Form
(If you are looking to stop bus service)

For more information on our Transportation Policy please refer to:
Transportation Policy Link