55 Join National Honor Society at RFA
A total of 55 students were inducted into the Rome Free Academy chapter of the National Honor Society in a ceremony Monday night (November 21) at the high school. The processional included current members and new inductees of the NHS. Chapter member Jack Wood led the Pledge of Allegiance. The National Anthem was sung by members of the RFA Select Choir, under the director of Leanna Guerrieri, conductor. Remarks included, Superintendent of Schools, Peter Blake and RFA Principal, Brian LeBaron.
Students with a cumulative grade point average of at least 89.5 are eligible.
Inductees are selected by an advisory council of six RFA teachers. The council looked at applications that addressed scholarship, service, character, and citizenship. Students wrote an essay about what those characteristics mean to them personally, plus they submitted 10 service hours showing participation in community events.
Advisors are Christine Calogero and Kaila Garramone. RFA Honor Society Officers are President: Miranda McCormick, Vice President: Dennis van Hoesel, Secretary: Katelyn Boyer, Treasurer: Abigail Bates. Candle Lighting Ceremony: Scholarship: Miranda McCormick; Service: Dennis van Hoesel, Character: Katelyn Boyer and Leadership: Abigail Bates. Chapter Offiers and Senior Class President introduced the new members who received a certificate and candle.
National Honor Society 2022-23 Inductees:
Michaelanne Allen
Dylan Anderegg
Noah Artigiani
Gianna Badolato
Ethan Bisgrove
Kennedy Bowen
Trinity Brindeau
Carson Campbell
Caitlyn Carinci-Clark
Olivia Ciaccia
Alyssa D'Aiuto
James DeAngelo
Katherine DeHimer
Alana DeJosie
Evie Denton
Brennan Emanuelli
Ricky Fernandez
Victoria Figueroa
Alec Fragapane
Olivia Frisch
Hannah Gann
Chelsea Gillett
Luke Haag
Elizabeth Hanba
Caden Hannafon
Maxwell Hilderbran
Samuel Hilderbran
Tanner Hill
Levi Linder
Keira Maurer
Mikayla McPheron
Teyla McVay
Sophia Mellace
Cameron Merritt
Ellyza Minicozzi
Dakota Morrison
Aiden Mount
Brandon Natale
Kaydence Piersma
Ellis Pomales III
Isabella Posselt
Liam Powers-Ginter
Imani Pugh
Cassidy Reilly
Alexander Rizzo
Delano Santiago
Devon Schwendeman
John Sharrino
Francesca Stolo
Sarah Street
Hannah Tien
Nicholas Toth-Ratazzi
Alicia Tourtelot
Logan Waterman
Alexis Wilcox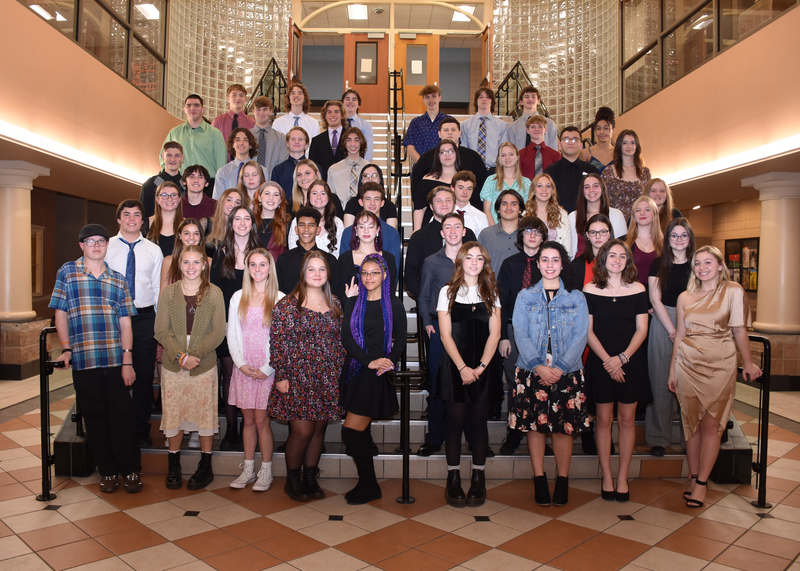 New Inductees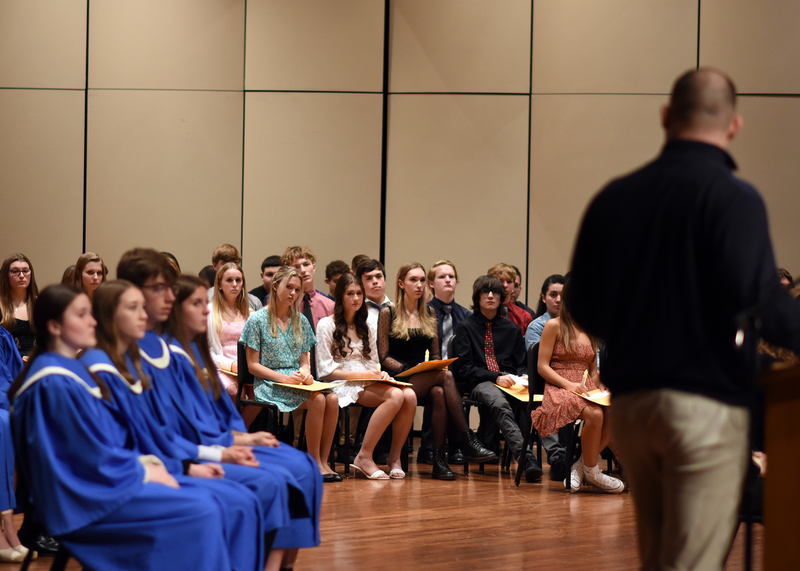 RFA Principal, Brian LeBaron recognizes the new inductees last night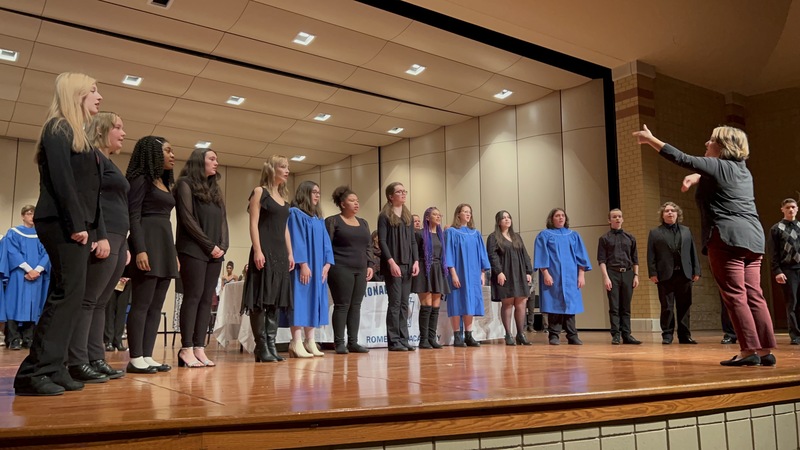 Members of the RFA Select Choir perform the Alma Mater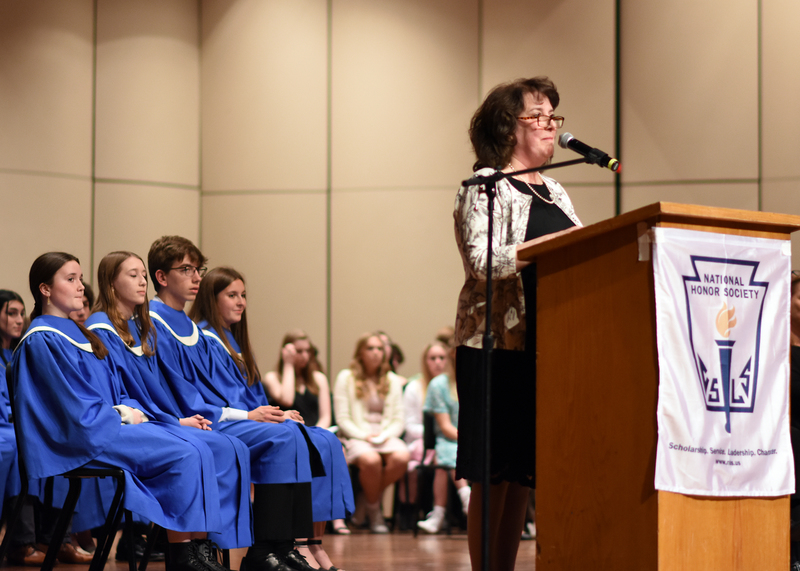 Advisor, Christine Calogero welcomes students and families last night
More photos can be found on the @romecsd facebook page.